About
Overview
AirportAware provides intuitive and appealing arrival and departure boards designed for use by FBOs and general aviation airport facilities. AirportAware uses live FlightAware data to provide general aviation operation information on an LCD or Plasma flat-screen television. AirportAware can be easily tailored to inform FBO personnel and customers of the live flight tracking data that's most important to them.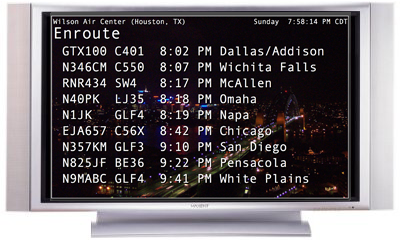 Live Terminal Information
When compared to displays in commercial air carrier terminals, AirportAware is tailored specifically for FBOs. Since there are fewer flights at general aviation terminals than most commercial terminals, AirportAware attractively displays scheduled, enroute and arrived flights, incorporating attractive "eye candy" such as high-resolution designer fonts with drop shadows in front of scenic backgrounds, as well as displaying customizable FBO information, weather maps, as well as aviation-related animation and entertainment during slow traffic periods. FBO staff can edit displayed FBO information such as phone numbers, fuel prices, specials, etc, choose enroute flights to exclude, and perform other functions via a webpage from any computer with an Internet connection.
The sleek appearance combined with customized data will impress any arriving passenger and welcome them to an FBO with the sight of their aircraft's arrival information being displayed on an AirportAware screen.
Behind The Counter
Control what your customers see. The web-based control panel accessible on the FlightAware.com web site by allows authenticated FBO employees to track operations as usual as well as manage and tailor the contents of the public display in real time. Employees can quickly and easily select which flights will be displayed, modify the welcome message, as well as update information on specials and manager contact information.
Buying AirportAware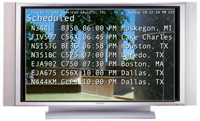 What's In The Box
All AirportAware Packages include an AirportAware Appliance (2"x6.5"x6.5" - 3lbs) with AirportAware software, power supply , and a 50' HDMI/DVI cable. The appliance can connect to your wireless network or you can supply an Ethernet (10Mbps, 100Mbps, or 1000Mbps) connection.
Monthly Subscription
The monthly subscription offers flight data and weather streamed to your AirportAware appliance from FlightAware as well as unlimited software upgrades and content improvements.
Pricing
$125
$125
$125
$125
August 29, 2015
August 29, 2015
August 29, 2015
August 29, 2015
You must be a FlightAware member (registration is free) to access commercial services. If you already are a member, simply click "Login" above. Otherwise, register now.