FlightAware is announcing a huge evolution in the world of USB SDR ADS-B Receivers -- the
FlightAware Pro Stick
, a customized, high-performance USB R820T2 software defined radio (SDR) with a built-in RF amp for maximum ADS-B/MLAT performance. The FlightAware Pro Stick can receive ADS-B or Mode S (for MLAT) transmissions from up to 300 miles away and is an evolutionary leap in low-cost flight tracking hardware.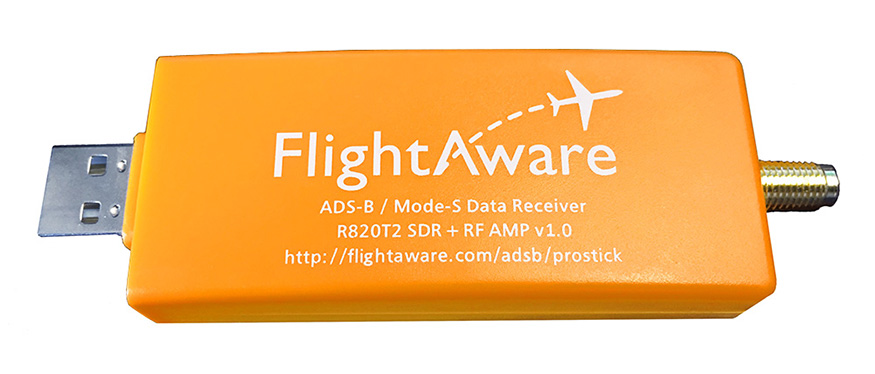 The first of its kind, FlightAware's Pro Stick is compatible with PiAware or any other device that supports USB RTLSDR receivers, and is less expensive than any other RTLSDR USB receiver in the world. As part of FlightAware's effort to build the largest worldwide ADS-B/MLAT network in the world, large investments are being made in technology research and design to provide high-performance, low cost flight tracking hardware around the world.
Performance and Compatibility
The Pro Stick typically produces 30-100% more range and a 50-100% higher ADS-B message rate in comparison to a generic USB RTL-SDR receiver. The Pro Stick can seamlessly replace an existing USB receiver or be used with a new PiAware receiver, FlightAware's turn-key flight tracking device.
The high powered amplification requires custom RF gain settings or a 1090MHz filter.

Pricing
FlightAware is making them available at-cost for only $16.95 with free Amazon Prime shipping, if purchased from Amazon. By comparison, the generic, lower performance RTL-SDR USB receivers sell for approximately $22.
Availability
The Pro Stick is available today on Amazon in the following countries:
It is also available for sale now on eBay for $24.99 with international shipping.
You can indicate your interest on the Pro Stick web page and be emailed when the Pro Stick is available for sale in your country.
Stay tuned for even more announcements about additional hardware, PiAware, and amazing new FlightAware technology that we're developing. Thanks for using FlightAware and thank you for your contribution.
FlightAware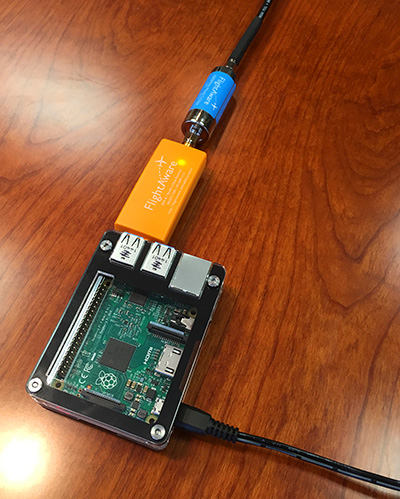 PiAware Kit (Raspberry Pi and antenna) not included